Heavy snowfall crippled normal life in tribal Lahaul and Spiti district today. An Atal Tunnel avalanche occurred on the Manali-Leh highway but no loss of life or property damage was reported.
Due to heavy snowfall in the region yesterday, the threat of snow avalanche had been looming on the Manali-Leh highway. Between the Solang valley and Keylong in the Lahaul valley.
100-m stretch hit
BRO officials said snow avalanche covered a 100-m stretch of road near the South portal of the tunnel.
The snow avalanche was 265 cm high, which has blocked the highway completely even for emergency vehicles between Manali and Keylong.
The BRO has pressed its workforce and machinery into service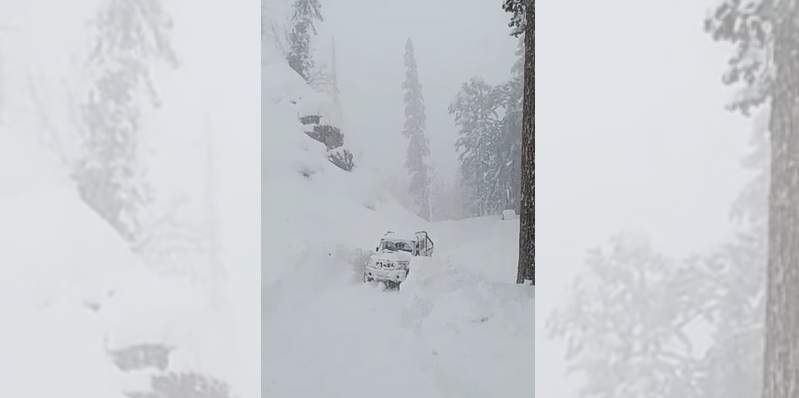 According to sources in the Border Roads Organisation (BRO), a snow avalanche has covered 100-metre stretch of the highway. It was near the South portal of the Atal tunnel on the Manali-Leh highway. (MSP-12). The snow avalanche was 265 cm high. It blocked the highway completely, even for emergency vehicles, between Manali and Keylong.
The BRO authorities have pressed into service its workforce and machinery to clear the highway for traffic movement.
According to the report of the District Disaster Management Authority, Lahaul and Spiti, 35.65 cm of fresh snowfall was reported at Sissu. At Jispa it was heavier at 38.01 cm. In Udaipur 10.16 cm of snow was reported during the day.
Due to the snowfall, traffic movement in Lahaul and Spiti came to a standstill. The residents of the Lahaul valley were cut off from the rest of the state after the road beyond the Solang valley towards Lahaul was blocked.
The Snow and Avalanche Study Establishment (SASE), Manali, has issued an avalanche alert for the coming days. As a result, the deputy commissioners of Kullu and Lahaul-Spiti have issued an advisory for common public to avoid venturing into snowbound areas.
The movement of tourists has been restricted towards the Solang valley from Manali beyond Nehru Kund.