A Provo Canyon avalanche ran into the Provo River at Bridal Veil Falls. It left an enormous pile of snow and debris in the Provo River.
UDOT's traffic camera in the area showed just how massive the pile was. People could be seen walking along the river's border.
The canyon had been closed in the morning for avalanche mitigation. US 189 was reopened at approximately 11 a.m.
Though the roadway was opened and not obstructed, authorities shared concerns about drivers slowing down or stopping to get a better view of the incident. The Utah Highway Patrol issued a statement telling "motorist(s) not to stop on the shoulder of the roadway. It has caused some dangerous conditions."
The Provo Canyon Avalanche apparently happened sometime in the morning hours ahead of the planned avalanche mitigation.
It didn't become clear how massive the slide was until after it was fully lit by sunlight.
Authorities with UDOT didn't express a high level of concern over the event. In a statement UDOT noted that "there was a pretty big slide that went right down Bridal Veil Falls, but didn't affect the road. We've set off a few additional avalanches, but nothing too major just yet."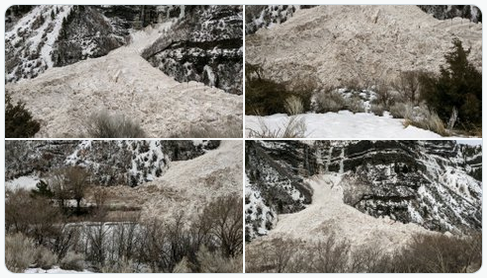 January 10th 2023